ADAPT Kids Activity Books
Part of the work we do at ADAPT Loddon Mallee is creating accessible and inclusive resources where people can learn about climate change in a way that doesn't feel overwhelming.
Often climate change resources are nationally or globally based, which can leave people powerless to take action. This book was created to support primary aged children to learn about the impacts of climate change in their local areas. By keeping the story local and providing activities and positive choices that children can make at home, they may feel more positive about what they can do to make a difference.
The book is filled with interactive puzzles and a story that follows Griffin the Growling Grass Frog on his mission to discover why the Loddon Mallee landscape is changing and his wetlands are drying up. He meets some friends along the way and learns more about climate change, renewable energy and the positive steps we all can make to reduce our footprint on the environment.
Free copies of the book are available to schools in the Loddon Mallee Region and are supported by a lesson planner to support teacher to use the resource in schools. If you would like to order copies of this book please register here.
ADAPT Loddon Mallee Kids Climate Change Activity Book
It is actually very heartwarming to see kids using the resource – kids are a great start because they take the books home and talk to their parents about it.
Dona Cayetana | ADAPT Loddon Mallee Project Coordinator
The ADAPT Loddon Mallee Kids Climate Change Activity Book provides easy to understand, constructive information about climate change. The activity books draw on local places and animals children can recognize while empowering them with actions they can take to make a difference.
Produced by ADAPT Loddon Mallee
Featuring
Dona Cayetana and students at the Maryborough Education Centre.
Presenter / Producer: Kyla Brettle 
Music: Rob Law
Images: Carmen Bunting
Executive Producers: Dona Cayetana and Geoff Caine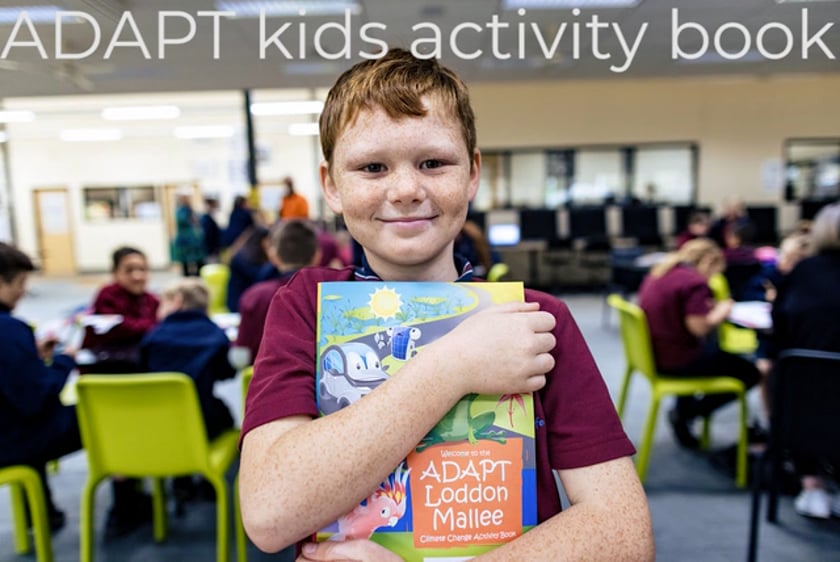 We acknowledge and respect Victorian Traditional Owners as the original custodians of Victoria's land and waters, their unique ability to care for Country and deep spiritual connection to it. We honour Elders past and present whose knowledge and wisdom has ensured the continuation of culture and traditional practices. We are committed to enabling self-determination for all Aboriginal people and aim to work closely with the Aboriginal community to drive action and improve outcomes especially in the context of a changing climate.