The Loddon Mallee Climate Ready Plan aims to strengthen the resilience of our people, places and sectors to become climate ready.
Resilience is the long-term capacity of a system to deal with change and continue to develop. Resilience to climate change comes from a combination of the ability to resist certain climate risks, the capacity to plan, self-organise and recover from extreme events, adapt to new conditions and take advantage of opportunities that arise.
In light of this, the plan organised around four resilience themes of Knowledge, Connection, Wellbeing and Security that together work to strengthen the resilience of our communities, the natural and built environments and our regional economy.
Through development of the plan, we learned that the capacity to build or strengthen resilience is not evenly shared. The burden of climate change falls most heavily on those already experiencing hardship and disadvantage, compounding existing injustices and inequities. There is also concern about the vulnerability of our cultural heritage sites, green spaces, biodiversity, local agricultural industries, and water bodies. When combined with the recent impacts of COVID-19, this prompted discussions of how to keep our communities well and hopeful that a resilient future is within sight – particularly for young people.
Participants provided valuable insights into the objectives and actions under each of the plan's three interconnected focus areas:
– where climate justice is centred for the wellbeing of all
– how we protect our natural and built environments
– home to some of the most resilient businesses in Victoria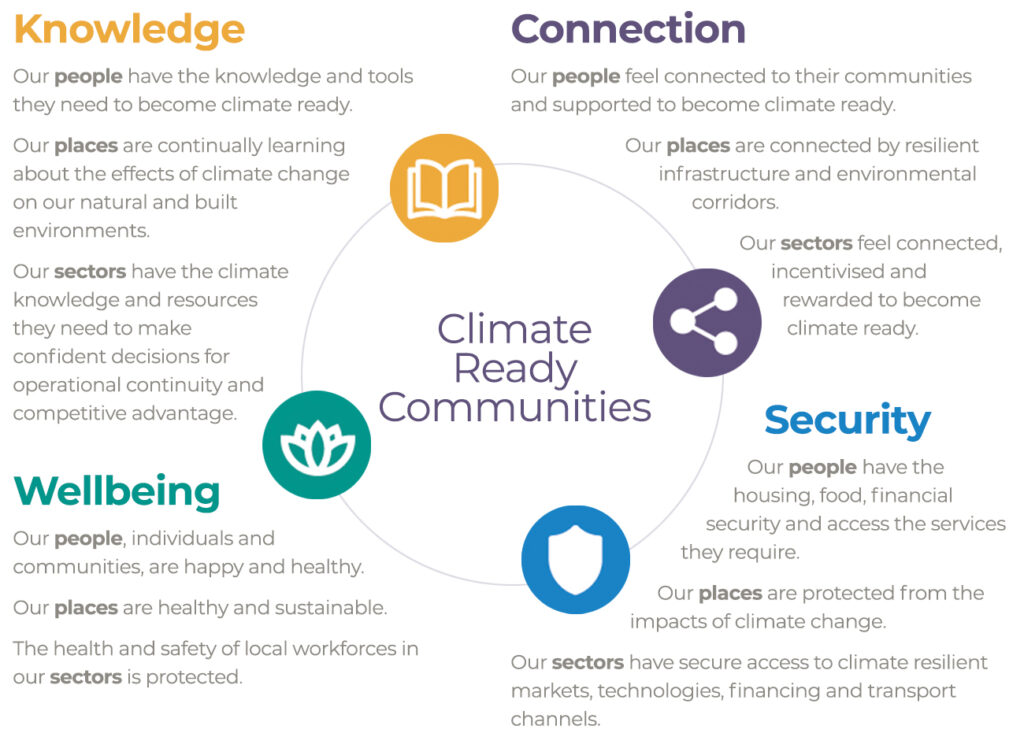 You can choose your own adventure as you navigate through the plan. Once you've listened to the Community Foreword, visit the home pages of each of the three focus areas while taking some time to listen to the audio pix that capture the voices of our communities. You can also explore the plan each of the resilience themes. Don't forget to visit the Stories page to get a real sense of the great projects already happening in our region.
If you get lost – don't worry just use the navigation bar to find your way back to the home page or the start of the plan.
You can also download a full colour and accessible pdf version of the plan.
We acknowledge and respect Victorian Traditional Owners as the original custodians of Victoria's land and waters, their unique ability to care for Country and deep spiritual connection to it. We honour Elders past and present whose knowledge and wisdom has ensured the continuation of culture and traditional practices. We are committed to enabling self-determination for all Aboriginal people and aim to work closely with the Aboriginal community to drive action and improve outcomes especially in the context of a changing climate.