MEC Sustainability Leadership Group
Students at Maryborough Education Centre (MEC) – a Prep to 12 and Specialist school in the Central Goldfields Shire – are taking the lead on climate change adaptation through their involvement in the school's Sustainability Leadership Group. 
The group has been set up to give students with an interest in the environment and climate a chance to have their say on the school's sustainability policies and help manage its carbon footprint – but also to nurture the confidence and knowledge they'll need in the face of a changing climate. 
MEC's groundsman and sustainability officer, Troy Butler, who established the group, wants to show the students that they can make positive change as individuals, as a small group, and as part of the wider community.
 "The kids are hearing a lot about climate change, sustainability and recycling – it's complicated, the bigger picture," he says, "but through this group we can break it down and make it an easier and much more approachable task for the future."
The group now boasts 23 passionate student members – drawn from both primary and secondary years – who are eager to make a difference. At the top of their agenda is to improve the school's approach to waste and recycling, with plans to introduce a four-stream waste and recycling system in 2022. It's an initiative supported by Central Goldfields Shire Council, which has offered the school free food scrap recycling bins and free removal of its food waste. The group is also looking at running 'clean up' days to remove rubbish and waste from the bushland surrounding the school. 
Troy is immensely proud of the students and can see their work gaining momentum over the coming years as they develop their leadership skills and knowledge of the problems they seek to solve. "I'm a gardener for a reason: from seeds, big things grow."
Leading by example in Maryborough
Troy Butler is a gardener and someone with his eye on the long game of systemic change. He loves working with young people and wants to give them the kind of opportunities to lead and learn that his own mentors and mates gave him.
In this soundwork Troy takes us to school at the Maryborough Education Centre – and through his experience of establishing and running a student Sustainability Leadership Group. He also shares his ambitions taking his student voices out into the local community and beyond.
Produced by ADAPT Loddon Mallee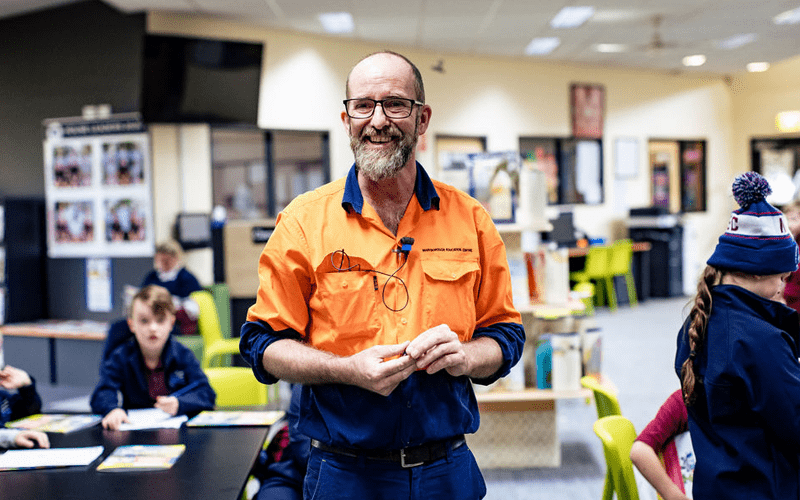 Featuring
Troy Butler, David Sutton, Ella Crofts, Jacob Olver, Cody Robertson, Evelyn_Axford, Ahren Ashbrook , Thomas Camponelli, Makayla Stork, Reuben VanLand, Zalrie Bowler, Ali Whittle
Presenter / Producer: Kyla Brettle 
Music: Rob Law
Images: Carmen Bunting
Executive Producers: Dona Cayetana and Geoff Caine
We acknowledge and respect Victorian Traditional Owners as the original custodians of Victoria's land and waters, their unique ability to care for Country and deep spiritual connection to it. We honour Elders past and present whose knowledge and wisdom has ensured the continuation of culture and traditional practices. We are committed to enabling self-determination for all Aboriginal people and aim to work closely with the Aboriginal community to drive action and improve outcomes especially in the context of a changing climate.